How it works
Promotional codes can be used not only for attracting new customers, but also for increasing sales and boosting repeat purchases. When a coupon code is applied, your customer will receive a discount on the order form according to the settings you have specified on the coupon. The discount/coupon's value will be subtracted from your Peecho Credit once the payment has been completed and the order is confirmed. If for some reason the order is not completed, the amount will be returned to your Credit. To make profit from your sales, make sure that the discount you offer for your products is smaller than your profit margin.
Note: Due to administrative reasons, your accumulated Profit can not be used towards covering the difference between the full price and the discounted price.
How to buy Credit
To offer discounts to clients, you first have to load pre-paid Credit to your account. To purchase Credit, head to the Deposit section of the Settings tab.

Click on Buy credit to purchase Credit using either with your bank card or Paypal account.

How to create Coupons
Once you've purchased credit, you can start generating coupons. Head to the Coupons section and click on Create coupons.

Note: the Remaining credit needs to be high enough to cover the value of each coupon, otherwise the coupons used by your clients will be invalid.
Every time you create a new Coupon or a set of Coupons, you can specify the exact settings and conditions for use (for example, a particular product type). Each setting is explained below the following image.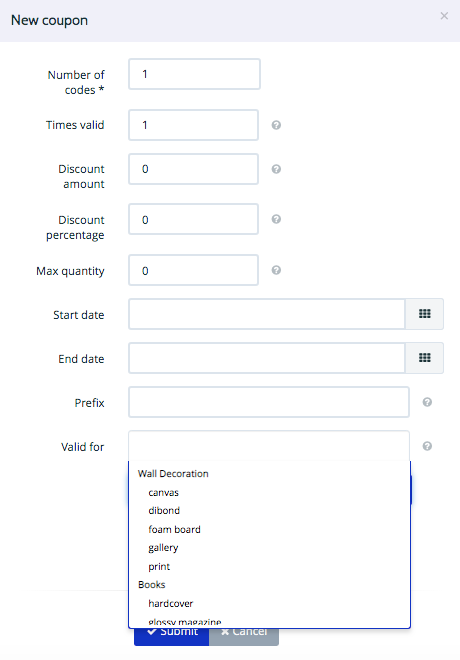 Number of codes: how many different coupon codes will be created, set to 1 by default (mandatory field)
Times valid: the total number of times your customers can use the code, set to 1 by default (mandatory field)
Discount amount or Discount percentage: you can either choose a discount of a fixed value (e.g. 10 EUR), or a percentage-based discount (e.g. 20% of the purchase value). Both fields are set to 0 by default. All values are calculated in EUR (either field is mandatory but not both)
Max quantity: the maximum number of copies in a single order for which the coupon discount will be applied. This can be used in combination with Discount Percentage above (e.g. when the customer orders multiple copies in one order but you want the discount to apply only on one. Leave 0 for all number of copies in the same order (mandatory field).
Start date/end date: the period when the promo code will be valid (non-mandatory field)
Prefix: this setting automatically assigns the same prefix to multiple single-use coupons that can be used as part of a campaign. This can be used in combination with Number of codes above (non-mandatory field)
Valid for: here you can indicate whether you want the coupon to be valid for only one product group, e.g., only for softcover publications or gallery prints (non-mandatory field)

Once the fields are specified, click Submit. The Coupon will be assigned a unique code and will be displayed on your Coupons list. The code consists of a randomly-generated series of letters and numbers. It can be shared with your customers and inserted in the Coupon button which can be found on the OVERVIEW step on the checkout (right before payment).
Tip: Advise customers to copy and paste the code from your message
How to view and edit the Coupons
When you create a Coupon, you can go back to its settings and change the randomly-assigned code into a meaningful text. For example, LOVEISINTHEAIR for a Valentine's day campaign. To view and edit a code or the settings, click on Details.

Then, change the code into the one you prefer and click Submit.
On the example below, the Coupon code has been changed to "thisisatestcoupon". It can be used 1 more time and it has been used 2 times so far. The discount is set to a fixed amount of EUR 20 which applies only to hardcover books.
Note: On this example, the Max quantity has been specified as 2 but is not relevant since the Discount amount applies to the total price of the order and not to each copy.